I was talking about customer demographic yesterday, and about how McDonald's (in the UK, at least) has managed to capitalise on a broad cross-section of society more than any other outlet I could think of.
I used Starbucks as an example of a global company that doesn't seem to have managed the same feat, and perhaps it's all for the better.
When I go to the US, most of the Starbucks branches I come across are generally untidy places that could use some TLC, and they're often set up 'to go' rather than to sit and relax and let the pressures of the day unfold around a short cappuccino.
In the UK, Starbucks feels different. The branches seem to be larger and take into account a number of factors, such as a section for getting in and out quickly, plus a large room (sometimes two or three rooms) with various seating options for comfort and laptop use.
You could argue that the Starbucks demographic, which I officially know very little about, is quite different when it comes to the UK and the US, yet the clientele can often seem similar: business types in sharp suits, students with friends, couples, middle class families, and trendy hipsters looking for a place to chill out or work. You don't often see children, which you're more likely to see at McDonald's.
Espressamente illy is another kettle of fish, being designed with white surfaces, clean lines and shiny tables. You won't find much in the way of wood panelling here, and design/art is very much the theme this company would like to convey while you sip on tremendous coffee (I'm biased – I love illy coffee when it's well made). Who comes here, you may ask? I look around and I see older couples (20+) and small groups of friends, travellers with suitcases in tow. It's well lit, proud of its art and its Italian heritage, but also welcoming to its sometime technology partner Samsung. (In New York last year, I visited a Samsung popup that had an illy coffee bar in the middle, and drinks were free. Likewise, in London a few months ago, the new Espressamente had a section that enabled customers to use Samsung tablets free of charge.)
Costa Coffee is going through subtle changes at the moment, seemingly in an attempt to break the mould that's been unashamedly copied by many other coffee shops (chain or independent). You can walk down any major high street in the UK and see identikit coffee shops that reveal a lack of originality, yet this perhaps plays safely into the hands of a certain coffee-consuming demographic.
Some independent coffee shops are trying a few different things, such as Mokoko in Bath, which is small (no inside seating) and only two or three tables outside. It's set up for 'to go' coffee, yet still serves its sit-down customers with proper cups and saucers, and the cake is delicious. The proposition is simple so far: cake, coffee and croissants; the decor is simple and clean, and the bar is dominated by the large coffee machine and the friendliness of the staff. I hope winter isn't too hard on them.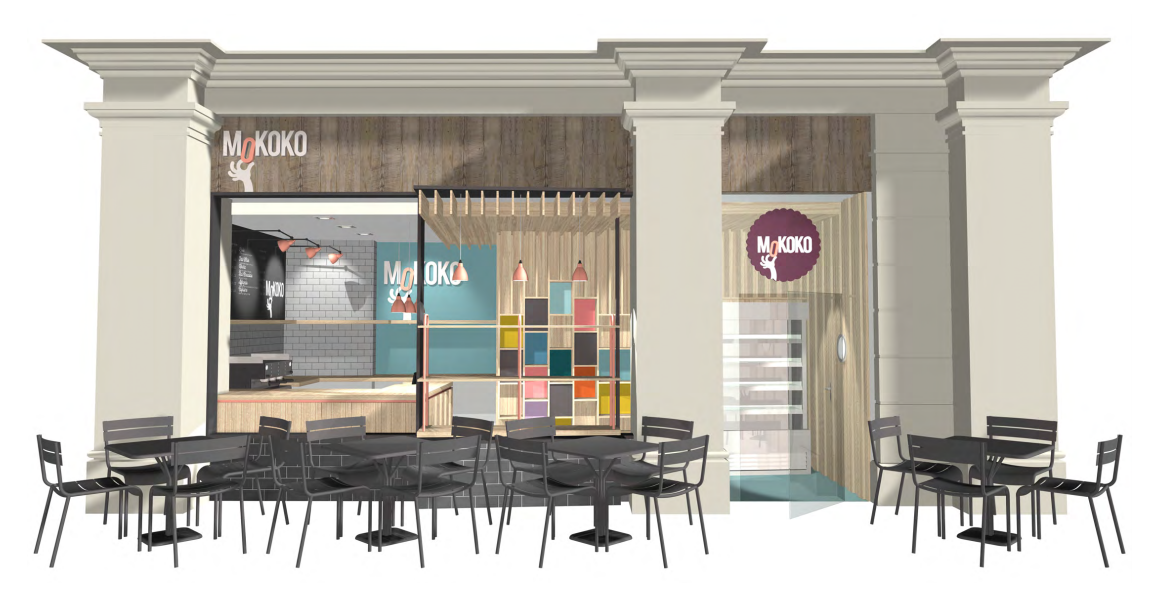 This is where 'chains' start, just like Pike Place in Seattle, where Starbucks first proffered coffee and became the business goliath it is today. Same for Costa; everyone starts small, don't they? So, let's take a look at Starbucks' new stores in its Seattle birthplace, to see how the company is stretching its European design ethos across the US.
For example, just a mile away from its original Pike Place Market location is a new store in an old bank building near a college, other restaurants, pubs and boutiques. I'm a sucker for dark, broody design that contrasts textiles such as wood with steel, stone and brick. I find it warm and inviting, and would much rather spend time working in a place like this, or entertaining friends, or simply enjoying some solitude.
The University Village outdoor shopping mall near the University of Washington is the location for a new Starbucks Reserve. (Did you see my video of the Starbucks Reserve in Amsterdam, where the barista Evert demonstrated the Clover Brewing System?) The ethos here is to tell the 'coffee story': Angled mirrors behind the bar bring light into the space and allow customers to watch as baristas create their beverages. Rich displays of coffee artefacts invite discovery and hand-stitched printed maps connect customers to the farms around the world that grow Starbucks coffee.
In Leschi, five miles south of the last location, Starbucks' Seattle heritage takes yet another design turn in celebrating the community's tradition of cycling, with a wall of upcycled bicycle tubes. This is as individual and thoughtful a space as you can get from such a massive brand, and I like it. It demonstrates that corporate brands can be just as thoughtful as independents when it comes to embracing a community 'look and feel', and I think it's this strategy that will help the giants of the high street stay competitive.
What designs are you seeing in your new coffee shops, cafes and fast food restaurants in your hometown? Let me know by leaving a comment below, wherever you happen to live.